New product release statement--- Wise Toys
Dear users!
We are excited to announce the release of the new product Wise Toys. Welcome to download and try Wise Toys.

Wise Toys is a productivity tool that can help you increase the efficiency of using your computer. It has 2 parts, Plugins, and Search.
Plugins

is a collection of several practical gadgets. This version contains a total of 11 gadgets. It involves batch modification of file names, QR code generation, translation and video downloading, etc.

Search

is a local file search engine that supports search plugins, installed programs, documents, pictures, etc.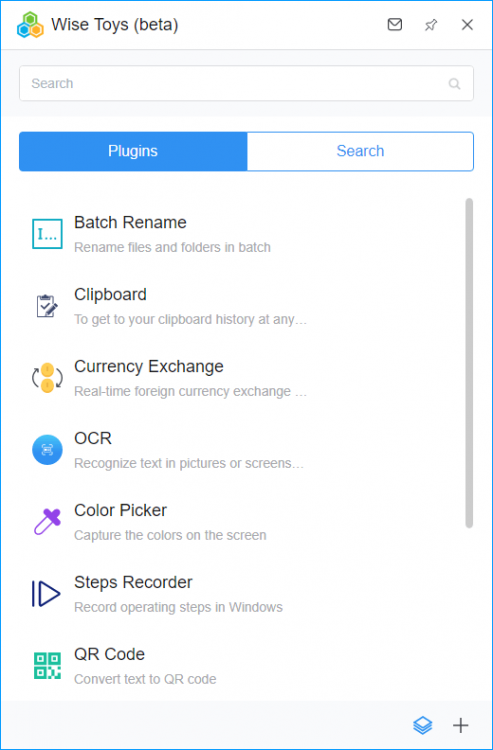 The following is a list of built-in plugins.
* Batch Rename
Support batch renaming of folders or files.
* Clipboard
The copied content on the Clipboard is easily passed them anywhere.
* Currency Exchange
Provides currency conversion at the latest exchange rates.
* OCR
Quickly identify text in pictures & screenshots.
* Color Picker
The color of any area on the screen can be extracted.
* Steps Recorder
A small tool for recording operation step
* QR Code
A QR code can be automatically generated according to the text you enter.
* Screen Snip
Takes screenshots anywhere on the screen.
* Translate
Translates words, phrases, and web pages between English and over 100 other languages.
* Video Downloader
Contains websites that can download videos and audios, such as downloading YouTube.
Wise Toys is simple and practical. Of course, we still have a lot of space for improvement. Suggestions and comments from you are very welcome. We would be very grateful for that, and we will take your valuable suggestions seriously!
Thank you!